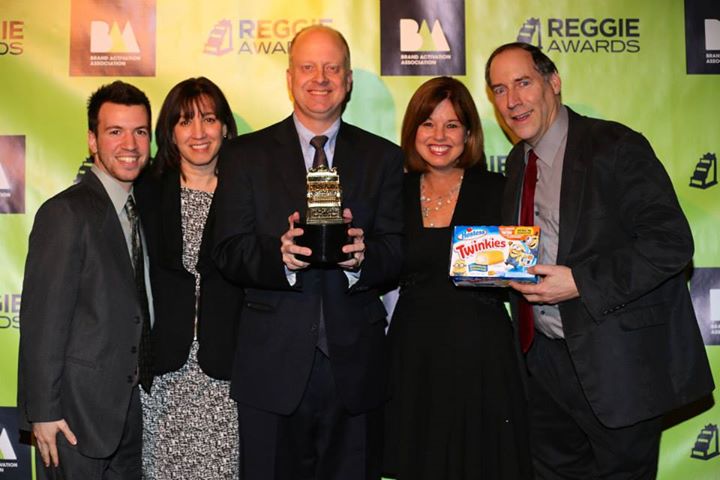 Hostess Brands, LLC and Spark Alliance Marketing received the Gold REGGIE Award in the category of Small Budget Campaigns from the Brand Activation Association for their Twinkie™ Minion Makeover campaign. The award comes hot on the heels of the brand's return from bankruptcy in July 2013 with The Sweetest Comeback in the History of Ever™ campaign.
With an extremely successful return to market, Hostess Brands was challenged with keeping the positive momentum going during the extremely competitive holiday period. The Hostess team, led by VP of Marketing, David Leavitt, realized that Twinkies® bear an uncanny resemblance to the Despicable Me 2 Minions. Just like Twinkies, the Minions are yellow, sweet, and bring joy to consumers of all ages. Hostess jumped on the chance to bring these two beloved brands together to create a truly unique campaign, the Twinkie Minion Makeover.
The road to success was not easy, with less than ten weeks to plan, execute, and launch a national program. With the help of Universal Studios Home Entertainment and Spark Alliance Marketing, Hostess created co-branded packaging of multipack and single serve Twinkies and four flavors of bagged Donettes®. Since Minions love bananas, Hostess Brands developed banana flavored creme-filled Twinkies exclusively for Walmart, which were so successful that Hostess Brands has since launched them as a permanent line extension. The back panel of Twinkies boxes included Minion accessories for consumers to cut out and use to turn their Twinkies into Minions. The promotion was activated online on Hostess Brands Twitter page, as well as the Hostess Brands Facebook page, where consumers could find additional character accessories and upload pictures of their Twinkie Minion creations. Prizing included Despicable Me 2 Blu-ray™ Combo Packs with the grand prize a home theater system.
The consumer response was fantastic with over 40,000 entries into the sweepstakes. Social media outlets took note as well. An image of the single serve packaging was posted to Reddit, hitting #1 with over 650,000 views CollegeHumor posted the picture to Facebook, commenting, "Cross-promotion done right."
David Leavitt, VP of Marketing stated, "Minions and Twinkies are a natural fit and we were blown away by consumer response to the promotion. What excited us most was how much fun our consumers had Minion-izing their Twinkies."
The Twinkie Minion Makeover was truly one in a Minion!